From around the world
In this section, we detail some useful case studies and information found out with the UK.
The WHO Global report on drowning highlights that 372,000 people drown worldwide each year.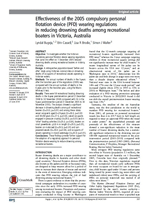 An investigation into mandatory personal flotation device wearing regulations in Victoria, Australia.
Guidance strategies to prevent unintentional injuries among the under-15s
Building on from the World Health Organization's 2014 Global report on drowning, this document provides step by step guidance to implement effective measures to reduce drowning.